Back to Blog
Instrumental Learning Journey at LIPA Primary & High School
1st September 2022 by Jamie
Our learning journey is designed to follow the fundamentals of Kodaly teaching practice, using inner musicality as the starting point and building on skills sequentially over time. The offer for academic year 2023 – 2024 broken down by year group is as follows: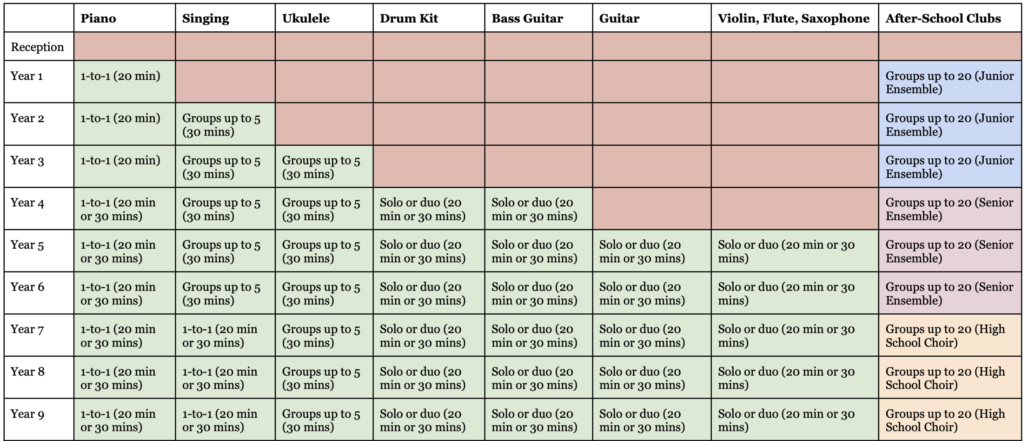 Please note, as standard, lessons are scheduled during normal school hours, apart from our after-school clubs as follows.
Junior Music After-School Club (led by Jez) – Yrs 1 – 3 – Thursday 3.20pm to 4.20pm
Senior Music After-School Club (led by Rachael) – Yrs 4 – 6 – Tuesday 3.20pm to 4.20pm
LIPA High School Pop Choir (led by Claire) – Yrs 7 – 9 – Wednesday 3pm to 4pm
Pupils in Year 6 to Year 9 may opt to have 1-to-1 lessons between the hours of 3pm and 6pm at the Hope Street Building, subject to availability.
Costs
Instrument Options
Format
Weekly Cost

Piano, Guitar, Bass, Drum Kit,

Sax, Flute, Violin, Vocals

20 minute 1-to-1 or 30 minute 2-to-1       

£12.00

Piano, Guitar, Bass, Drum Kit,

Sax, Flute, Violin, Vocals    

30 minute 1-to-1

£18.00

Singing, Ukulele

30 minute (groups up to 5)

£6.00

After-School Clubs                                    

1 hour (groups up to 20)

£5.00
Notes
Lessons are billed & payable half-termly, in advance. Payments can be made either by credit or debit card, or BACS.
You can see our full 'information & commitments' document here, which details our policies and processes.
Upon sign up, parents will be sent a login to our online system MyMusicStaff, which we recommend parents use for logging practice sessions; adding notes for teachers & reviewing lesson notes, with access to repertoire and downloadable resources.
The school continues to invest in our pupils by covering costs for music lessons for pupil premium eligible children. The fund covers a maximum of two lessons up to a maximum weekly cost of £18. Any lessons on top of this allowance are payable at the usual rate.